Palm Beach. No other county name probably brings to mind wealth, the tropics and Florida. When Palm Beach County was a part of Dade County before 1909,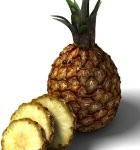 farming was the way that most of the early homesteaders and pioneers made their living. Traditional crops such as tomatoes, beans, and potatoes were grown, but the unique sub-tropical climate of South Florida allowed more tropical and exotic fruits to be grown. And the king of all those early crops was the pineapple. Most people probably do not know that Palm Beach County was once the largest pineapple growing area in the continental United States (at that time Hawaii was still a territory). Pineapple growing in Florida goes back to 1860, when Benjamin Baker planted the first pineapples in the Florida Keys at Plantation Key from plants he had brought in from Cuba. By 1876, pineapple farming was spreading and Jensen Beach became the pineapple capital of South Florida. Captain T.E. Richards started his plantation on Eden Island, roughly where Sewell's Point is today. He had moved his plantation further inland, away from the coastal barrier islands as the bears along the beach enjoyed his pineapples too.
In the 1890s, pineapple fever spread to Palm Beach County, with many pioneers planting "pines" as they were called by the farmers. They purchased pineapplie "slips" or "suckers" for about 10 cents each, which were small pineapple plants from the base of the fruit (slip) or the base of the plant (sucker). Fresh pineapples demanded a high price in northern markets; one article mentioned that fresh pineapples were selling for $1.00, the equivalent of about $20.00 today. All of the land south of the center of West Palm Beach along the high ridge was planted with pineapples, going well south into the Boca Raton area. The only crop in the town of Yamato, which was located north of the present day Boca Raton, was pineapples. The small colony of immigrant
Japanese, led by Jo Sakai, planted hundreds of acres of pineapple. John Clarke, who gave his name to Lake Clarke Shores, also had a pineapple plantation and packing house near where Parker Avenue is today. At the peak in 1909, 5,000 acres were planted in pineapples, yielding over 44 million pounds of fruit. Most of the fruit was shipped out fresh; some was canned in Mangonia or Delray Beach. Given that Palm Beach County was named in 1909, I wonder if some did not consider the name "Pineapple Beach County." Good thing they didn't, because the end was near for pineapple farming in South Florida. It was the perfect storm – plant disease, freezes and cheap imports.
The mid 1890s saw many devastasting freezes that wiped out central Florida pineapple plantations. In Palm Beach county, many farmers had been noticing that their plants were yellowing and dying; they called it the "pineapple blight." The Yamato Colony lost their entire 1909 crop to the disease, caused by mealy bugs and nematodes. By 1912, Henry Flagler's Florida East Coast Railroad had reached Key West, allowing for the importation of cheap pineapples from Cuba that could be carried north via rail, unlike Florida pineapples which were shipped north via schooner. Prices plummeted as local farmers could not compete with the cheap Cuban imports.
So what to do with the land? Rather than find replacement crops, many owners decided to plat and subdivide the lands, so that neighborhoods such as Flamingo Park were founded in West Palm Beach. Many of the Japanese immigrants in Yamato returned to Japan, but George Morikami and a few others stayed and farmed winter vegetables. Their land was seized by the federal government in May 1942 during World War II and the 6,000 acres became the Army Air Corps Training Base. After the
war, Morikani bought land west of Delray Beach, which today is The Morikami Museum and Japanese Gardens.
By the 1920s, fewer than 200 acres were in pineapple production in Florida. A few farmers continued on, including Oscar Winchester, who had his plantation on Military Trail in Boynton Beach, just south of where
Le Chalet Boulevard is today. His 80 acres of pineapples was the largest plantation in the continental United States in 1941. He had learned the technique of forcing the pineapple to flower so that his crop was ready at Christmas, instead of the normal June-August season. His place was called "Flatwoods Plantation" and grew many varieties of pineapples that are no longer available commercially such as Abakka, Natal Queen, and Pernambuco (which is supposed to be the most delicious of all pineapple varieties). These old varieties have saw-tooth leaves that are truly spiky.
In 1962, it looked as if pineapple farming might make a comeback in South Florida. With the Cuban trade embargo, no fresh pineapple was available; all the Hawaiian pineapple was canned as it was too far and expensive to ship as fresh fruit. A 1962 article in the Palm Beach Post mentioned P.K. Platts. who had a 10 acre farm near Fort Pierce. Morikami also continued to grow pineapples west of Delray, and William Brooker had a pineapple stand into the 1970s in Jupiter. Brooker's stand was located on Indiantown Road, just west of Sims Creek. I can still remember stopping there with my father to buy pineapples. They were small compared to store bought ones, but much sweeter as they were plant ripened. He farmed his plantation until shortly before his death in 1975 at age 93. I don't know when the Flatwoods Plantation ceased farming, but surprisingly much of the land is still empty along Old Military Trail in that area.
So does anyone grow pineapple today commercially in Florida? No. I looked at U.S. Department of Agriculture records for Florida – no pineapples are grown. But nothing prevents you from starting your own mini-plantation. I have grown pineapples for years, and there is nothing better than a deep orange, plant-ripened
pineapple. Next time you buy a fresh pineapple (probably the Smooth Cayenne variety), carefully twist off the green top. Remove some of the small leaves from the base, and underneath you will see some small roots already forming. You can root it in some water, or just place the top in a pot or in your yard. They have a very shallow root structure, so they do well in a pot. They love sun, but not too much water. After about 18 months, in January or February, your pineapple will bloom. The center of the plant will turn red, and small purple flowers will emerge to become the pineapple fruit. As the fruit is forming, a new plant will emerge from the ground. You can plant this "slip" or let it stay on the mother plant to bear again. The pineapple should be ripe in July or August; the aroma from a ripe pineapple is like nothing else. Then you can experience an old part of Florida's agriculture history, one sweet slice at a time.
This article was researched through the historical archives of the Palm Beach Post and the Tropical Sun, the Lake Clarke Shores Town website, and the Morikami Museum website. Special thanks to Robin Potvin, archivist for the Town of Jupiter, for information on William Brooker.