Note: This blog does not really pertain to Palm Beach County, but it is a fun story from afar.
A penny postcard at the beginning of the twentieth century was the text message of its time.  People sent them by the millions to friends and family near and far to send a short message, complete with a pretty scene of where they were, just like texting a photo. I've collected postcards for years, mostly for the rare photos of places near where I live in Florida, or places I have visited. At a postcard show held February 22 in Pompano Beach, Florida, I decided to look for Racine postcards. My dad Jack Pedersen and his parents John and Lillian Pedersen were born in Racine, and I enjoy learning more about Racine's rich history.
One vendor at the show had bought out several collections and was selling all postcards for a dollar a piece – a bargain hunter's paradise. I dove into the collection and found six cards from Racine – familiar scenes such as Monument Square and Horlick's Malted Milk.
I bought them all, and tucked them away in my bag.
Later when looking at them with a friend, we noticed that three of the Racine cards were to and from the same people.  A man who signed the cards "Shorty" sent the postcards to his sweetheart, Eva M. Brown, who was living in Whitewater. He addressed them to Eva in care of the Wisconsin Telephone Company. The three cards were written in February, April and September, 1909.
The messages were sweet and innocent; "Just simply I can't think of anything else but little Eva Brown." This drew me into the story – who were Shorty and Eva? Did their romance blossom?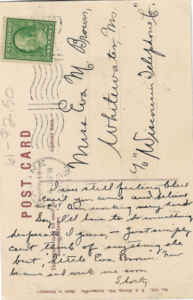 I started searching with Ancestry.com, using Eva's information since I had her full name, and guessing her to be born about 1890. I first found her on the 1905 Wisconsin State Census, living in Whitewater with her parents, George and Lucy Brown, and six siblings. Eva Maude Brown was born in Hebron, Wisconsin, May 27, 1888. The 1910 U.S. Census confirmed I had the right family – Eva's job was listed as telephone operator.
It is interesting that Shorty sent the postcards to her place of work – did he want to hide their romance from her parents? Eva was also in several family trees in Ancestry. Many of those trees listed her as being married to E. Bruno Waldin, and that they lived in Beloit. Waldin was a pharmacist, eventually owning his own pharmacy in Beloit.
The crucial question – was "Shorty" and Bruno Waldin the same person?
Bruno Waldin was born in Reedsburg, Wisconsin in 1888, and married Eva in 1912. On Bruno's 1917 World War I draft registration card, he listed his profession, address, and physical characteristics – and there it was – he listed his height as short!  The World War II draft registration card listed his height at 5 foot 4½ inches.
But what was Bruno's tie to Racine? A search of the Racine Journal-Times archive at Newspapers.com didn't have any articles mentioning a Bruno Waldin from that time period.  I could see though how his name was probably often misspelled as Walden – and that search cracked the case.
A January 10, 1910 article mentions Bruno Waldin and four other men who had taken the druggist's exam in Milwaukee – and all had failed! So Bruno Waldin and Shorty were one in the same. He was in Racine, probably interning with a pharmacist after his college studies, preparing for the pharmacy exam.  He did pass the exam in 1913, and became a registered pharmacist.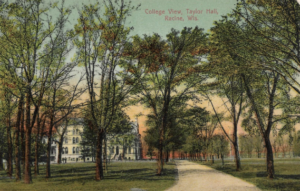 Bruno and Eva had a lifelong marriage, ended by Bruno's passing in 1966 at the age of 78. There were no children in the marriage. Bruno and Eva retired to Fort Atkinson. For decades, Eva was very active in the American Legion Auxiliary, serving in many roles including district president in 1946. Her activities in the organization brought her all over Wisconsin, including many meetings in Racine. She passed away in 1973 at the age of 85.
Yes, sometimes a good story does have a happy ending. And for a chance finding at a postcard show more than 1,000 miles from Wisconsin, the sweet love story of Eva and Bruno might have never been told.